September 18, 2021
Posted by:

administrator

Categories:

Blog, Lodging on Safari, Time to Visit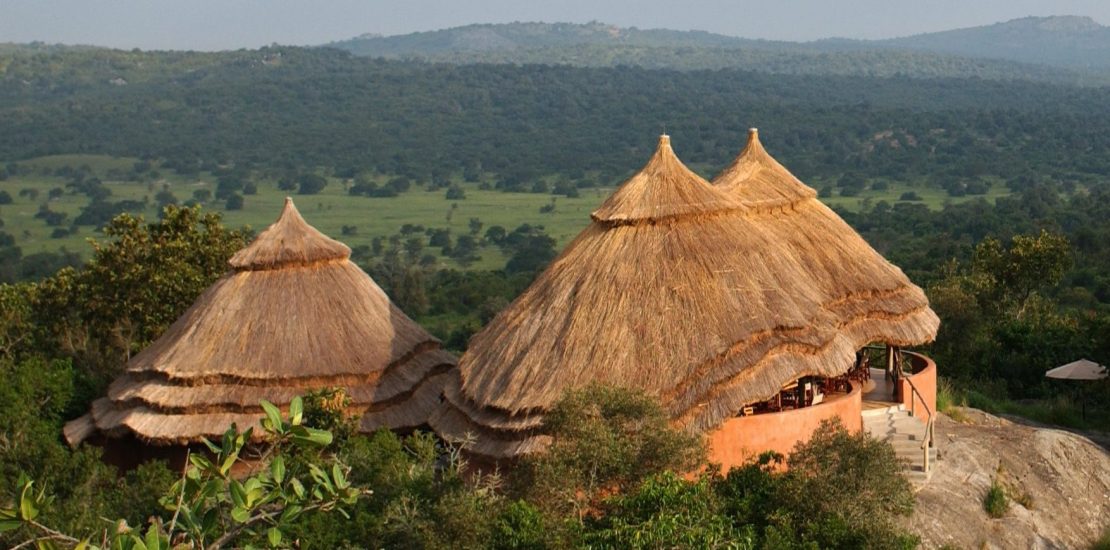 Lake Mburo national park is located in western Uganda, just a 4hour drive from Kampala. The park covers 371 km sq and is Uganda's smallest savannah park. The park derives its name from the largest of 14 lakes in the area. It protects crocodiles, hippos, water-birds like cormorant, fish-eagle, pelican, heron and others. So many times, there is a necessity to stay overnight in the park, hence the need to cover accommodation in lake Mburo park.
The park comprises of 158 square miles covered by the acacia- dotted savannah forests with Acacia, Olea and Boscia species. Also present are bush-thickets and an extensive area of wetlands with several unique species of mammals including; zebras and impalas.
The park is also a home to more than 315 different bird species including the shoebill-stork, papyrus-yellow-warbler, African-Fin foot, saddle-billed stork, Brown-chested Wattled plover, Curruther's Cisticola, Tabora Cisticola, Grat snipe, Abyssinian ground hornbill, African fish eagle, Saddle billed stork and white winged warbler.
TO DO IN THE PARK
Lake Mburo national park offers a variety of activities including game viewing. A game drive present various wildlife like; Impalas, Zebras, Elands, Topi, Antelopes, Bush-rat, Bogar reedbuck, slender-mongoose, Giraffes, Oribis, and hippos. This makes tourists be in close direct contact with wildlife and offers the best photographic moments. The best time for game viewing being the dry season when animals concentrate on the lake shores for water
DIFFERENT ACCOMMODATION TYPES
Lake Mburo national park has a variety of accommodation facilities. These range from budget facilities, moderate/mid-range and luxury facilities and caters for all kinds of tourists.
BUDGET
The budget accommodation facilities provide basic amenities and services like clean rooms, and other basic needs of a guest at a lower price than the regular hotel. Extra amenities maybe available but at an extra cost. These include;
Rwonyo Rest Camp. This is a financially friendly accommodation which favors budget travelers. It is a budget accommodation overseen by the Uganda Wildlife Authority. This camp was constructed using natural-materials like grass and wood to offer you a genuine African touch.
It is located inside the park therefore one may have an encounter different Park veteran like antelopes, warthogs and zebras. This will obviously create wonderful memories of their own.
Eagle's Nest Camp; is located just close by the Sanga gate entry. are presented inform thatched safari tents which are legitimately outfitted. These safari tents are self-contianed with a private shower.
The Lodge is established on a raised hill that gives a panoramic view of the savannah scenes of Lake Mburo National Park.
There's a camper den specifically designated for camping lovers, the night camp fire is constantly arranged in this camp.
Hyena hill Lodge; Most recently opened with just 4 triangular cabins lifter off the ground. It is amazing how this lodge can pass for a mid-range facility. The Cabins are all self-contained and the lodge is run on solar. They offer excellent service, with Dutch and Uganda touch
MID RANGE
Midrange accommodation facilities provide moderate services and amenities to guests at a moderate price and these include;
Rwakobo Rock. Lodge. Rwakobo rock is a mid-range accommodation facility situated in Lake Mburo National Park scene; the rooms are located around a slope purposely set on rough edges to give a stunning perspective of the Park.
The lodge runs on solar powered lights, flush toilets, sunlight based warmed showers and clean drinking water. The scene is considered normal, and guests get to appreciate Wi-Fi in the eatery and lounge area.
The lodge gives tourists an opportunity to see Park inhabitants if residents are close to the swimming pool. Animals like water-bucks, zebras, warthogs, impalas and bushbucks are frequently common and can also be viewed from a private verandah. A stay in Rwakoba rock lode gives the best African wilderness experience
Mburo safari lodge; This is one of the midrange accommodations in Lake Mburo National Park. It is said to be a standout amongst the midrange accommodation in this Park. This is so because the scenic area where this lodge was set is superior to most in the same category; the perspectives are basically stunning.
Mburo Safari Lodge brags of its superb establishment which includes the luxury cottages, family cottages and honey moon cottages. All these are raised on a wooden stage and secured by a grass-covered rooftop. Flawlessly mixed with the indigenous habitat, beautifully and attentively intended for total solace, comfort, and joy is the lodge set-up. Each room is outfitted with a clean private washroom, toilets, private overhangs and handmade wooden furniture. The beds are extra-large fitted with mosquito nets and closets all opening out to their private galleries.
LUXURY
Mihingo lodge; Mihingo lodge is an exclusive luxury safari lodge situated in the southern boundary of the pristine Lake Mburo National Park. It is an upmarket tented camp that offers an incredible and unforgettable African wilderness experience. Mihingo thatched lodge buildings are made of natural materials which blend seamlessly with its surroundings.
Guests can enjoy total luxury in the wild; spacious rooms, delectable food, rejuvenating wellness treatments, sparkling swimming pool and exhilarating explorations
Tented camps are self-contained, built on raised wooden platforms purposely to provide a spectacular view of Lake Mburo National Park.
Mantana tented camp. Mantana Tented Camp is an awesome upmarket accommodation facility located inside Lake Mburo National Park. The camp was established to offer an extraordinary experience to its visitors.
It has 9 tents built and well fitted with inside showers having hot and cool water, washrooms and flush toilets to offer fantastic perspective of the joys of Lake Mburo National Park. Each tent has 2 beds each fitted with a mosquito net.
Mantana lodge has a Restaurant that offers delectable dinners serving nearby in addition to worldwide cooking styles.
Love Uganda Safaris is here to help make the choice for you according to your tastes and preferences. No two lodges share a rate and with the good working relations, we boast of friendly rates with all the accommodations.