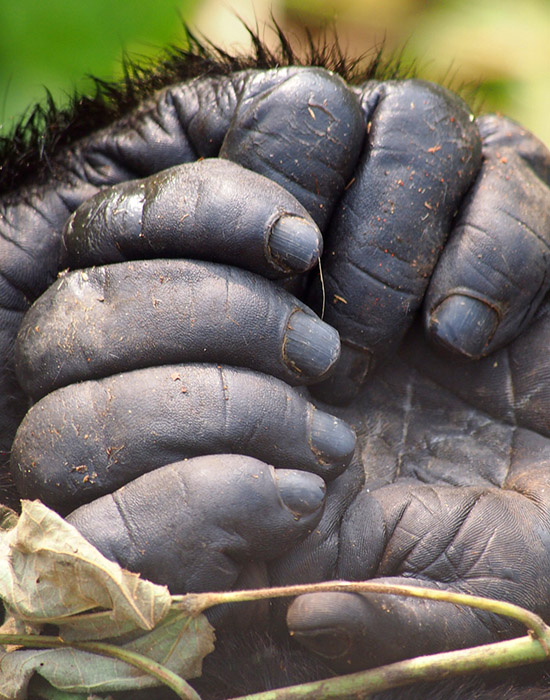 Rwanda Gorilla safaris will give you a life time opportunity to discover these awesome apes currently existing in only three countries in the world where the critically endangered mountain gorillas live.
A gorilla tracking safari in Rwanda is often described as "life changing" and with good reason. With only an estimated 880 Gorillas left in the world, to see these gentle creatures in their natural habitats is truly an epic moment.
Gorillas thrive in and amongst the bamboo and lush forested slopes of Bwindi and the Virunga regions of Uganda and Rwanda respectively; this therefore makes the entire gorilla trekking tour in East Africa an interesting activity. While on a gorilla safari in Rwanda , you'll be instructed and introduced to the gorilla jungles by your expert guides to one of the fully-habituated families of mountain gorillas and you can stay with them for an awe-inspiring hour, often crouching just a few feet away, whilst the gorillas go about their daily lives.
Rwanda Gorilla safaris are mainly undertaken in the Volcanoes National park, or doing a combined gorilla safari in Bwindi impenetrable national park in Uganda, giving you an opportunity to encounter these mighty primates in two different habitats within a single trip.
Hikes in the mountains can last anywhere from 1 hour to 8 hours depending on the family allocated to your group and their movements. The journey back can take just as long, but you are often carried along by the euphoria you feel at seeing the gorillas!
Expert guides give a pre-trek briefing on specific protocols and rules for visiting the gorillas that live within an altitude of 2500m and 4000m. Porters are available to help carry backpacks and cameras, as well as helping you with your footing along your hike which can be hard work, but well worth it.