Uganda gorilla safari is the best memorable tour on any Uganda safari, hiking into the thick forest, jumping over huge heaps of elephants' dung, walking in slippery trails and escaping from thorny trees just to have a one hour fun with the endangered mountain gorillas is an experience that every tourist deserves while on a Uganda safari.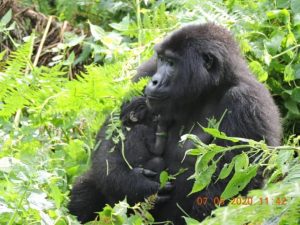 Forasmuch as Uganda is famously known for wildlife safaris with the big five including the lions, elephants, Rhinos, buffaloes and leopards, gorilla safari in Uganda stick out for the best thrilling experience that Uganda offers.
You may have traveled to the pearl of Africa for the hiking safari to the mountains of the moon (mountain Rwenzori), or for a game viewing safari to Queen Elizabeth National Park, Murchison falls National Park, Kidepo valley National Park or Lake Mburo National Parking and your safari was one of the incredibly awesome experience.
How about if you now book for a Uganda gorilla trekking safari, trekking gorillas in Uganda only takes place in two national parks that is Mgahinga National Park and Bwindi Impenetrable National Park all in the southwestern part of Uganda and both located in the Virunga Mountains of volcanoes.
Bwindi Impenetrable national Park is a prime home for mountain gorillas all over the world with over 600 mountain gorillas that live in this forest thus harboring almost three quarters of the world's mountain gorilla population. Bwindi has 19 habituated mountain gorilla families all in her four regions namely; Buhoma, NKuringo; Ruhija and Rushaga, every gorilla family has its own history in every region however the experience of trekking these different mountain gorilla families in different regions is equally stimulating.
Trekking mountain gorillas in Mgahinga national park is a stunningly unique experience even though this park is not well known compared to Bwindi Impenetrable national Park. The park is located in the southwestern part of Uganda at the boarder of Rwanda and Congo. The park has two habituated mountain gorilla families that are ready to be trekked every day.
Uganda gorilla trekking begins with a short briefing on the dos and don'ts while trekking mountain gorillas, this is done by the park ranger at the park headquarters. After the briefing you head into the thick forest in search for mountain gorillas, pass into the unclearly paved trails just to feel that lifelong experience of staying in the presence of these unique apes that are believed to be 99% human DNA. Spend that magical hour monitoring and learning about their day to day lives. Trekkers are free to take as many pictures as they wish for remembrance while with gorillas however, the camera flash has to be off.
Gorilla trekkers in Uganda always enjoy other activities to add on their gorilla trekking trip in Uganda and in this way they usually don't miss venturing into the Batwa Culture. Before Bwindi Impenetrable forest was gazzeted as a national park in 1991, there lived the Batwa pygmies who were the first inhabitants in this forest. Visiting the Batwa community while on your gorilla safari gives an opportunity to learn the ancient ways of how these local people used to hunt and gather food in this this forest.
Most tourists add Queen Elizabeth National Park on their gorilla Safari in Uganda for lion tracking, game viewing in this savannah park to spot out animals like elephants, buffaloes, hippos, hyenas, waterbucks to mention but a few, they also have a thrilling boat cruise on the Kazinga Channel or chimp tracking in the Kyambura gorge before they proceed for gorilla trekking.
Sometime tourists also track chimpanzee in Uganda at Kibale forest national park. Travelers usually love turning their gorilla trekking safari into a full primate safari by visiting Kibale forest national park or Queen Elizabeth national park for chimpanzee before or after trekking gorillas in either Bwindi Impenetrable National Park or Mgahinga National Park
Uganda gorilla safaris are always the best safaris one should never miss out upon visiting the pearl of Africa, are you yearning for a lifetime memorable experience? Trek the gorillas in Uganda is memorable.