May 17, 2021
Posted by:

administrator

Category:

Blog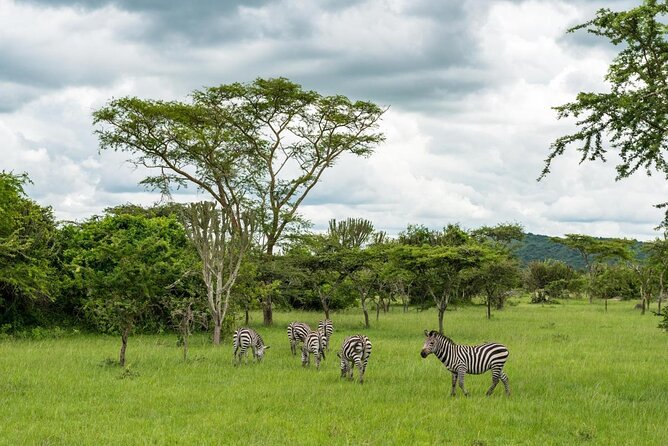 With an area of 260km, Lake Mburo national park is the smallest national park in Uganda. This national park is located in the western region of Uganda in Kiruhura district, Nyabushozi County and the nearest city is Mbarara city.
Lake Mburo national park was first preserved as a hunting ground in 1933, then it updated into a game reserve in 1963 and later to a national park in 1983 till date. This is the nearest national park to Kampala with only a distance of 240k west of the Uganda's capital. It can be accessed by a road transfer which is only a 4 hours road transfer.
Lake Mburo national park was designated as a ramsar site in 2006. As a wetland that holds significant importance to the society and eco system. The ramsar convention looks at the sustainable use of wetlands and conservation of the wetland system, a system that now aims at the protection of Lake Mburo national park (Nakivali wetland system).
This national park is well known for its beauty in nature scenery, various wildlife, bird species, and numerous fun activities that can be enjoyed on a Uganda safaris.
Attractions in lake Mburo national park
Wildlife
As a thousand of tourist flock to the pearl of Africa, due to its richness in diverse wildlife species population. Lake Mburo national park is among the savannah parks of the Uganda where wildlife viewing takes places through a game drive. This park is home of about 68 mammal species that can be viewed on a game drive. These include Jackals, Hyenas, Buffaloes, Bush buck, Elands, topis, zebras, Impala, genet, Bush pigs, Oribi warthogs and many more.
Birds
Lake Mburo national park is a birders haven with 300 bird species among these include; carruthers Cisticola, Blue headed coucal, Black billed stork, Bare –faced away bird, African wattled lapwing, Greater painted snipe, saddle billed stork, Black billed bustard, Yellow rumped bird , Great painted snipe, Brown chested lapwing.
Activities
Game drives in Lake Mburo national park are scheduled for morning, evening, and night time. The choice and preference depends on the interest on the tourist. A number of wildlife and bird species can be viewed on a game drive among which include Zebras, impalas, topis, jackals, hyenas, leopards and many more. Game drive usually take about 2 to 3 hour drive through the savannah plains of the national park.
Boat cruise
A cruise on the magical lake Mburo is truly breathtaking, with the view of the lakes flora and fauna at the shores of the lake. Aquatic species such as the hippos and crocodiles can be viewed on a 2 hour boat cruise on Lake Mburo. Bird species such as the kingfisher can also be viewed while on the cruise. A boat cruise is more preferably in the evening at dawn, as a tourist can enjoy a refreshed and relaxed fill of the lake breeze. Boat cruises are scheduled depending on the size of the visitors, few visitors can use the big boat, and for the large numbers a larger boat is provided.
Birding
The national park is idea for bird lovers, with over 310 species for sight. Birding spots in lake Mburo include the forest , salt licks, swampy valleys of Miriti and Warukiri, near Rwonyo camp and Rubanga. Birds spotted include common Scimitarbill, Finfoot, white –winged tit, Ross's Turaco, Brown parrot, Black –bellied heron, Bateleur Coqui francolin, grey crowned crane, Emerald –spotted wood dove, Red –headed lovebird and many others.
Nature walks
A walk through the savannah grass of Lake Mburo national park is truly rewarding, a view of various mammals such as hyenas, hippos, and many more is truly worth on a Uganda safaris. Walking safaris in the park are conducted due to the fact that there are no elephants and lions in the park and are usually led by guides. Nature walks are usually carried out in Rubanga forest, hilltop with a view of 9 lakes out of 14 of the region and at Rwonyo (salt licks).
Horseback riding
For adventurous people this is a great option for wildlife viewing .for this experience gives a total feel with the wild than a game drive, on a horse ride wildlife viewing is closure to the mammals than a game drive. Wildlife such as the leopard, warthogs, zebras, impala and many more can be viewed on a horseback ride.
Sport fishing
Sport fishing is another activity that can be enjoyed in the park, with seven species with tilapia included. Fishing is usually done at mazinga fishing spot in lake Mburo national park.
Accommodation facilities are well set up at the park for those that are planning to spend a night. Lodges, hotel, tents, guest houses and many more are set out all depending on the preference, interest and budget of the traveler.
Accommodation at Lake Mburo NP  include
Hyena lodge
Mpogo lodge
Eagles nest lake Mburo
Rwakobo rock
Arcadia cottages
Mburo safari lodge
Mihingo safari lodge
Leopard rest camp
Our lake Mburo national park package
2 days lake Mburo national park
3 days lake Mburo wildlife safari
4 days gorilla and Lake Mburo safari
7 days wildlife tour experience
18 days Uganda safari