September 18, 2021
Posted by:

administrator

Categories:

Best Safaris, Gorilla Destinations, Murchison Falls, Waterfalls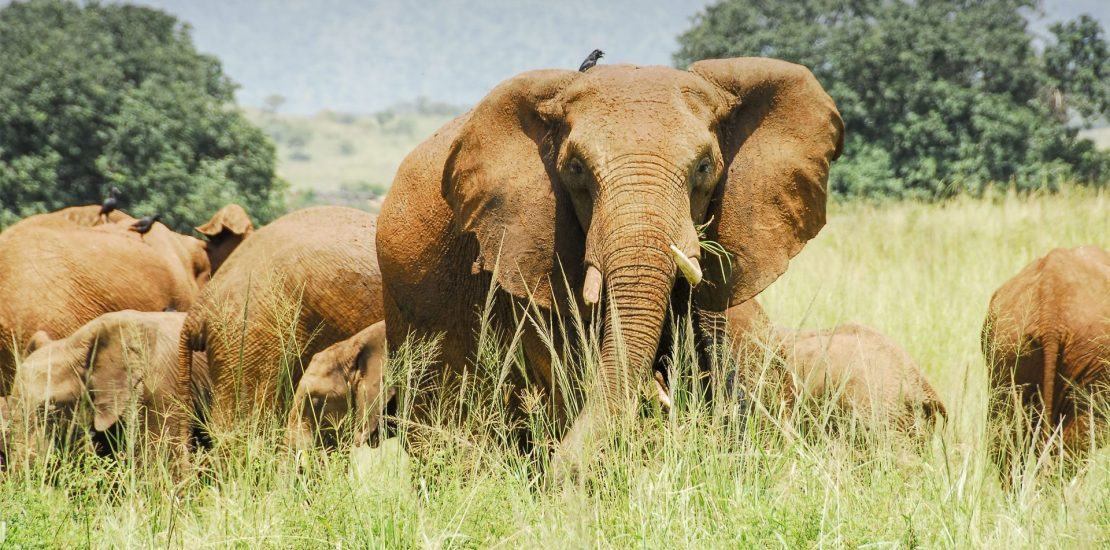 Uganda is one of the countries in the world that is rich in wildlife. The said wildlife includes primates like chimpanzees, monkeys, and gorillas, Big5 animals and over 1000 bird species. These can be witnessed in the 10 national parks, gazette forests & reserves across the country.
Uganda's wildlife Safaris can be done through game-drives, hikes, treks, nature-walks and the like.
Different destinations across Uganda offer unique experiences, therefore one can choose to visit either and walk away with a fascinating lifetime satisfaction and great memories.
Home to the endangered mountain Gorillas; Bwindi offers an amazing experience for visitors to stand a few meters away from mountain gorillas. Over 400 mountain gorillas are found in this impenetrable forest of which an estimated 120 are habituated.
Bwindi's mist-covered hillsides are blanketed by one of Uganda's oldest and most biologically diverse rainforests. Over 120 mammals are found here with 350 bird species recorded including 23 endemics. The forest is predominantly known for gorilla trekking because it offers the best experiences.
A gorilla permit costs $700 each and is valid for a day.  We are equipped to arrange permits for this activity, therefore talk to us.
Queen Elizabeth National Park.
This is Uganda's most popular destination and offers best wildlife Safaris. It is home to the famous "Tree Climbing Lions" in Ishasha. And also has the 32km Kazinga Channel stretch that is the lifeline of the park.
Queen Elizabeth Park has a coveted and diverse ecosystem. This ecosystem comprises savanna, humid forests, sparkling lakes and fertile wetlands. All of which combined make it the ideal habitat for classic wildlife safaris. In the park are ten primate species including habituated chimpanzees and over 600 species of birds. Additionally, there are gorges, explosion craters, and crater lakes.
With an astonishing 5000-hippos, 2500-elephants and over 10,000-buffalo thriving in its grasslands and shorelines, a game-drive and boat-cruise along the Kazinga-channel are a must! guarantees sightings of some of Africa's most iconic species. Other common herbivores include warthogs, waterbuck, Uganda kob and topi, as well as the sitatunga antelope.
Queen Elizabeth's most elusive inhabitants are its felines: lion, leopard, civet, genal and serval cats. Lions are found throughout the park. However, the most renowned live in the southern-sector – Ishasha, where they rest within fig trees. Solitary leopards are nocturnal and incredibly camouflaged, making their sighting all the more rewarding! The smaller cats are also predominantly nocturnal and best spotted on night game-drives.
Kibale National Park.
The Primate Capital; Over 60-mammal species are present in Kibale Forest! This park is particularly rich in primates with 13 species recorded, the highest total for any Ugandan national park. The 9 diurnal-primates in Kibale include; vervet-monkey, red-tailed grey-checked mangabey, blue monkey, L'Hoest, red-colobus, olive baboons, black-and-white colobus, and Chimpanzee.
The Kibale Forest area is the last Ugandan stronghold of the red-colobus, although small numbers still survive in Semliki National Park. Additionally, the elusive forest-elephant move seasonally through the forest. This is yet another reason why Kibale National Park is a superb destination for wildlife safaris.
Murchison Falls National Park.
This is Uganda's largest and oldest conservation area and one of the most spectacular in Africa. Murchison Falls National Park is one of the best game parks to visit while in Uganda for a wildlife safari. The park is located in the Murchison Conservation Area where we also find the Bugungu and Karuma wildlife reserves.
The spectacular park is endowed with several attractions including; over 76 mammal species with four members of the Big5 animals- (the lion, leopard, the elephant, and Buffalo). Other species include bushbucks, Uganda kob, waterbucks and warthogs, giraffes, Jackson's hartebeest, hyenas etc.
Along the shores of the Nile and within the waters you will see lots of hippos and crocodiles. There also several primates in the park including, baboons and several monkey species.
The most famous here activities are game-drives and boat-rides. Although fishing excursions are increasingly becoming popular. Book your stay with us.
Kidepo Valley National Park
This is Uganda's most isolated national park, located in wild frontier region of Karamoja. Kidepo Valley National Park has a savannah landscape that extends far beyond the gazetted area, towards horizons.
Kidepo usually offers excellent lion and elephant sightings. Herds of up 1,000 buffalo are often encountered. Cheetah are seen with increasing frequency, and it is home to many dry-country species. Among them are caracal, aardwolf, greater and lesser kudu, mountain reedbuck and Guenther's dik-dik.
Five primate species are present, including the localized patas monkey. Lucky visitors might spot the endangered Rothschild's giraffe.
The Narus valley in Kidepo has a variety of wild animals such as lions, Jackson's hartebeest, buffaloes, giraffes, oribis and reedbucks.
Kidepo Valley National park is the best when it comes to wildlife Safaris and it was nominated in World Travel Awards 2017 in the Category of Africa's leading National park against the others like Masai Mara in Kenya & Serengeti in Tanzania and many others.
Lake Mburo National Park
Lake Mburo National Park is a compact gem; located conveniently close to the highway that connects Kampala to the parks of western Uganda. It is the smallest of Uganda's parks and is inspired by ancient metamorphic-rocks which date back more than 500-million years.
It is home to 350bird-species as well as zebra, impala, eland, buffalo, oribi, Defassa-waterbuck, leopard, hippo, hyena, topi and reedbuck. And a game-drive makes an excellent part of wildlife safaris.
Uganda's unique wildlife is a must see! Tourists and business people visiting the country want to have at least one national park included in their itineraries. For example, many tourists enjoy gorilla trekking in Bwindi impenetrable forest and the chimpanzee trekking activity in Kibale national park.
Love Uganda Safaris is here to help you with all your travel needs ;- we organize wildlife Safaris, cultural tours and religious tours. We also give back through Love Uganda Foundation. Contact us and we will be serve with a smile.