July 29, 2021
Posted by:

administrator

Categories:

Blog, Uncategorized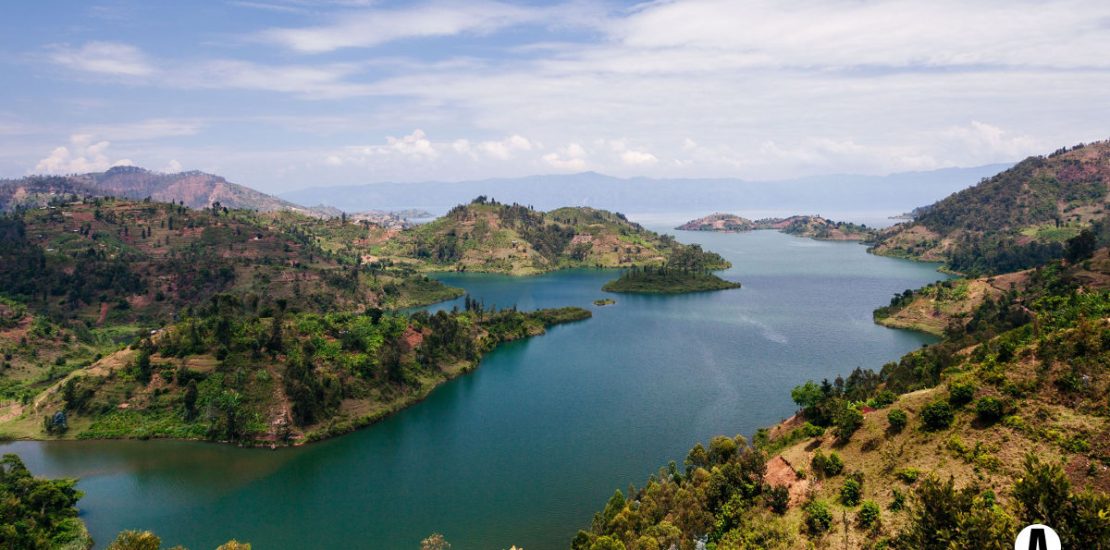 After an exploring experience in the three national parks of volcanoes national park, Akagera national park and Nyungwe national park of Rwanda, an enroute to Lake Kivu is one of the fascinating activities that one shouldn't miss on their Rwanda safari.
Lake Kivu is located in western Rwanda boarding democratic republic of Congo. This is the largest lake in Rwanda with an area of 2700 km, a length of 70km and a width of 50km approximately.
It is also among the African great lakes located in the Albertine right on the western side of Rwanda. This lake pours its fresh waters southwards into river Ruzizi that also empties into Lake Tanganyika of Tanzania.This lake is well known for its stable tide and diverse attractions that have enabled a number of economic activities to take place around and on the lake. Lake Kivu is neighbored by the towns of Kibuye, Cyangugu, Gisenyi in Rwanda and Bukavu, Goma, Sake, Kalehe and Kabera for Democratic republic of Congo.
Lake Kivu is an ideal place for relaxation and contemplation for tourists on a Rwanda safari, for it is engaged with numerous fun activities and attraction that a one can enjoy.
For the attractions at the lake are as follows\
The Idjwi Island
This is the tenth largest island lake in the world and the second largest in Africa. This Island is the sub Kivu Island in the territories of democratic republic of Congo. It is found in the Virunga ranges, a boat rise to this island and an interaction with the local fisher men is truly worth a view on every Rwanda safari.
Imbababzi orphanage
This orphanage was established in 1994 by an American woman called Rosamond Carr. This was constructed to accommodate the orphans from the Rwanda genocide. It is a home to over 100 orphans, the Imbabazi orphanage take care of the children and it also helps to reunite them to the family members. A visit to this home of hope can surely be humbling and rewarding.
Kibuye genocide memorial
This memorial is near a church in Kibuye where a great massacre slaughter took place during the genocide. This place has a number of physical presentations of the remains of people during the genocide. A tour around this place gives a lifetime experience as one get to know about the Rwanda history.
Napoleon Island
Interestingly this island was named after napoleon Bonaparte because the island is shaped like the hat of Bonaparte. This islands as numerous fauna for example the African giant millipedes, Colony of bats and many water birds.
Hot springs
Lake Kivu has a number of hot springs that a tourist can see for example Kinigi hot springs, Cyangugu hot spring, Nyamumba hot spring and Gisenyi hot springs
Besides the historical attractions at Lake Kivu there are number of adventurous activities one can enjoy while on their tour around the land of thousand hills. These are as follows below:
Swimming
For the fact that Lake Kivu is a fresh water body with clear water and free from dangerous animal creatures this makes it ideal for swimmers to enjoy a drop in the smooth clear waters of Lake Kivu.
Boat cruise
A boat cruise on Lake Kivu is another fanatic activity that one enjoys while of the waves of the lake. This cruise gives an opportunity to view of Rwanda beauty. A chat with the fresher men and visiting the different islands on the lake can surely be rewarding.
Hiking and biking
Lake Kivu has beautiful white sand shore and engaging surroundings that are ideal for a hike and biking around the Lake shores of kivu
Sport fishing
This is another interesting activities at Lake Kivu with a huge number of fish species that can be caught, this can be surly a joyous activities. Fish species that can be got include the long fin tilapia, Nile tilapia, blue spotted tilapia, Redbreast tilapia and many more.
Birding
For bird lovers Lake Kivu is a good place to for bird watching with numerous bird species for example the African wood pecker, African kingfisher, yellow billed stock, speckled pigeons, Ashy fly cater, scared ibis, knobs billed duck and many more.
With the beautiful diverse attractions in Rwanda, Lake Kivu is among the must see on your Rwanda safari for an adventurous experience like no other in the world.