March 10, 2022
Posted by:

administrator

Categories:

Favourite Encounter, Gorilla Destinations, gorilla safaris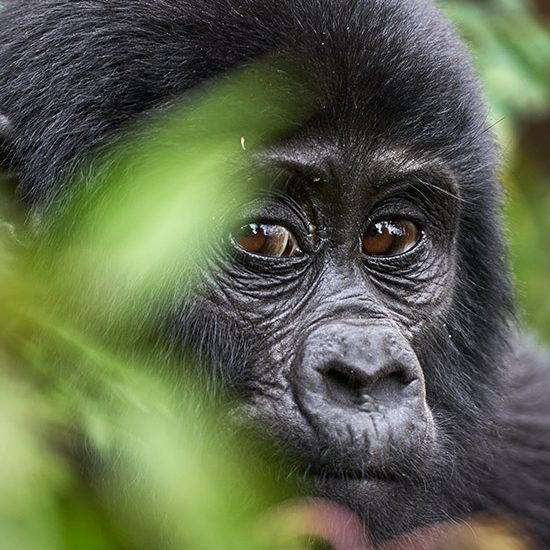 Bwindi Impenetrable just like its name suggests a place that's dense and thick, and true to its name it indeed is impenetrable. It is home to the endangered mountain gorilla, with a population of approx. 500 individuals (growing every other time). We call this gorilla the Bwindi Gorilla.
The steep valleys & high ridges of this old age forest hide more than just gorillas. Some of the additional highlights of different Bwindi-Sectors include;
Waterfall trails
Batwa pygmy experience
The Batwa trail
Home stays
Volcano Hikes; Sabinyo, Muhavura & Gahinga
Birding Experiences
Bwindi hospital visit
Nature walk to the bamboo zone
Boat rides on different lakes
Golden monkey trek in Mgahinga Forest
This article however is to solely expound on the life of a mountain gorilla as also uncover the different gorilla families available within this humongous assortment of trees.
TWO IN ONE SPECIE

The mountain gorilla, initially seen as one subspecies is now divided into two subspecies; the bwindi gorilla and the virunga gorilla.
There are small differences that distinguish these two animals from each other. For example, the hair of the bwindi gorilla is shorter than that of the virunga gorillas. This has to do with the fact that the Virunga gorillas lives at a higher & colder altitude than its counterpart. Also other differences are behavioral, based on ecology and less on genetics. Some scientists are skeptical about splitting the two subspecies but time will tell…
A GORILLAS LIFE

Gorillas are social animals that live in groups that consist of average 12 individuals but there are groups that are known to have more than 30 animals.

A group is led by a dominant silverback, who is the core of the group and will if necessary defend the group with his life. Besides the dominant Silverback, other males can belong to the group too and this may be sons and brothers. They also play a certain role in protection of the group alongside the dominant silverback. Additionally a group also consists of females and young ones.
Gorillas are diurnal animals – active during day and sleeping at night. On normal occasions, the day rhythm is divided into gathering food, trekking and rest. They live a good life to say the least. However this rhythm varies depending on weather patterns. During the period of inactivity the gorillas sleep a little and strengthen their bond, grooming Each other's hair – incidentally gorillas groom each other more than chimpanzees. You have to visit these gentle giants to comprehend their life because no words describing them can do them justice. The young play, sit, chase each other through trees which strengthen their mutual relationship. On a good day the adults may participate in these 'games'.
Gentle Giants…
These gentle giants move an average 500m – 1km a day. However in times of trouble (yes, they too have troubles like humans), like negative encounters with other groups they may travel much greater distances. A stressed gorilla can be identified by the diarrhea-like stool left behind.
Stability is key for growth of a gorilla group, it gives them such a good feeling of comfort and safety within the group and also its immediate surroundings.
RUSHAGA (south)

(Family, year of habituation)
Busingye 2011
Bweeza 2011
Kahungye 2011
Mishaya 2010
Nshongi 2009
Bikingi ongoing
RUHIJA (east)
(Family, year of habituation)
Mukiza 2017
Oruzogo 2011
Bitukura 2008
Kyaguriro research
BUHOMA (north)
(Family, year of habituation)
Rushegura 2002
Habinyanja 1998
Mubare 1993
NKURINGO (south)

(Family, year of habituation)
Bushaho 2017
Nkuringo 2004
MGAHINGA (south)
(Family, year of habituation)
Nyakagezi
Enquire about a gorilla tour of your life! Let's take you in the deepest jungles of Africa.