October 5, 2020
Posted by:

administrator

Categories:

Blog, Gorilla Destinations, gorilla safaris, Uganda Gorilla Safaris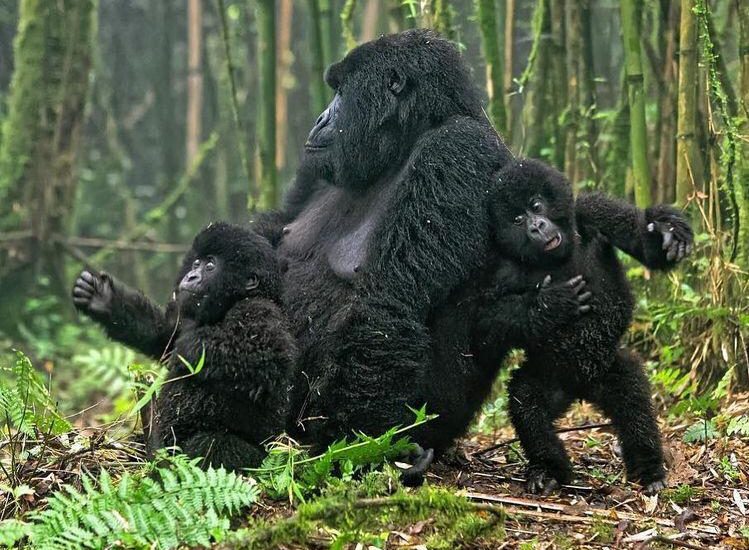 The pearl Of Africa has 50% of the remaining gorilla population in the world, with primate national parks of Bwindi impenetrable national park and Mgahinga national park, Uganda is truly a paradise for gorilla trekking on your Uganda safari.
Bwindi impenetrable national park has the highest number of gorilla individuals in the Uganda, and these are distributed in its four sectors of Buhoma in the north, Ruhija in the east, Nkuringo in the west and Rushaga in the south.
This national park is located in the south western region of Uganda and it referred to as the initial life line of tourism in Uganda, being the first area to initiate gorilla trekking in the Buhoma sector in 1993.
Buhoma sector was the first sector to be trekked with the first habituated gorilla family of Mubare. This sector of Bwindi is preferred by many due to the friendly gorilla families and easy accessibility coming from the different regions of Uganda.
Before trekking the gorilla families in Buhoma sector of Bwindi one is required to purchase a gorilla permit through the Uganda wildlife authority, a regulatory body of tourism in Uganda or through tour agents or operators. This gorilla permit costs $700 per individual valid for a single trek of a particular gorilla family.
Gorilla trekking in Buhoma begins with a short briefing by the parks ranger about the do's and don'ts's while trekking the endangered apes in their habitat. The trek can take 2 to 6 hours depending on the movements and location of the mountain gorilla, but Buhoma is a preferred location due to the easy finding of the gorilla families compared to the other steep sectors.
Packed lunch is advised for the trekkers also gorilla family allocation is done depending on the health, physical fitness and stability of the trekker.
Buhoma sector has three habituated gorilla families that are trekked by tourists on their gorilla safaris. These gorilla families include the sliver backs that are the heads of the groups, black backs, females, juveniles and infants;
The number of the gorilla individuals' changes depending on the new births or deaths from group conflicts.  Gorilla families in Buhoma include;
Mubare group
This was the first habituated gorilla group in Uganda, and was the first group to be trekked by tourists in 1993. This group derived its name from the Mubare hill, where the mountain gorilla where first sighted. This group currently has 9 individual members despite the many deaths, change in leadership of the silver and loosing of members. Ruhondeza was the first silver back leader of the family but unfortunately died in 2013. The Mubare group holds great significance in the trekking history and while planning for a gorilla safaris in Uganda, this family should be on your bucket list.
Habinyanja group
The Habinyanja group was habituated in 1997 and by 2000 trekking of this group was open to tourists.  This group was first sighted in a swamp area in Bwindi where they derived its name from a Rukiga term "Nyanja" which means place of water. It was first headed by Mugurisi "old man" who later died because of old age and left dominance in the hands of two brothers of Mwirima and Rwasingazi. Due to the difference in their lifestyle these two separated and Mwirima formed the Rushegura group while Rwasingazi remained and led the Habinyanja gorilla group.
Rushegura group
This is a group that broke away from the Habinyanja gorilla family with leadership of Mwirima, Rushegura was the area where this group broke awake and derived its name. It is one of the calmest gorilla groups with curios interesting infants who don't shy away from getting close to humans and getting to know more. With the current new births this group has increased it numbers to 18 members.
Katwe group
This group is among the newly habituated gorilla groups in Buhoma. Trekking in this group started in 2018 with eight members.
Muyambi group
Muyambi group is another newly developed gorilla family that broke away Mubare. This group currently has 6 members with an interesting lifestyle that is worth a visit on gorilla safari while in Uganda.
Besides gorilla trekking in Buhoma this sector has more to offer to its visitors;
Cultural exploration of the Batwa pygmies at the Buhoma sector is another fascinating activity while at the sector. You can get to know about the initial inhabitants of Bwindi, their tradition, beliefs, lifestyle and culture while on your safari which is a truly a lifetime experience.
Birding through the beautiful vegetation of Buhoma is a life experience as you witness bird species such as the stonechat, brown throated, Chestnut. Wattle –eyes, yellow-spotted Barbets, Dusky tit, Black bee eater among others.
A natural walk through the beautiful Buhoma sector of Bwindi is truly worth as you view more of the sectors different fauna and flora.
Buhoma sector has different accommodation facilities for trekkers that might spend the night at the sector. The accommodation facilities include hotels, lodges, guest houses and many more. These range from budget, midrange to luxury depending on the preference of the client.
Among these include;
Buhoma community rest camp
Sanctuary gorilla forest camp
Lake Kitandara Bwindi camp
Buhoma lodge
CTPH gorilla conservation camp
Silverback lodge
Volcanoes Bwindi lodge
Engagi lodge
Mahogany spring camp
Bwindi guest house
Gorilla friend lodge
Jungle view lodge
Buhoma sector is truly a place to be for all primate lovers for an ultimate gorilla experience like no other in the world. Book with love Uganda safaris, for gorilla tours in Bwindi impenetrable national park, on your Uganda safari.