August 21, 2021
Posted by:

administrator

Category:

Birding Excursions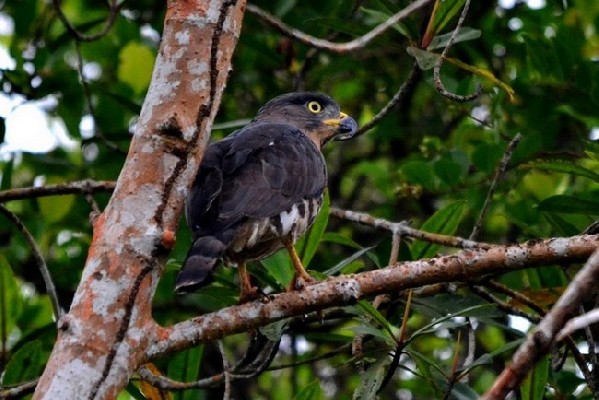 Birding in Semiliki; Dubbed as the true birders haven, Semuliki national park is accurately living up to its name. It's one park with vast bird species to can be explored while on a Uganda birding expedition.
The Park is among Uganda's 10 protected areas. It is located in western Uganda, in Bundibugyo in Bwamba country.  It is located at the border of Uganda and democratic republic of Congo. The park was established in 1993, making it Uganda's newest national park to be created.  It covers an area of 219km rich in biodiversity of flora and fauna. It is blessed with breathtaking views of landscapes, attractions and the wildlife. A park full of life!
Well as some tourists are interestingly on attentive to only wildlife sightings like big cats, some are ardent bird watchers, therefore look for specifics destinations. Seeing big cats may require visiting savannah parks i.e. Queen Elizabeth national park, Murchison falls national park. Bwindi impenetrable national park is one park to visit for an ultimate gorilla experience.
Birding in Semuliki
A typical bird watching experience in Semuliki Park, like any other starts quite early.  The park is a great pull of bird-lovers that come to explore the different bird species located within it.
Birding excursions in the park are exceptional experiences for all bird lovers that are looking for something different. The park is home to over 400 beautiful bird species, with 9 hornbills and 216 true forest birds. The park lies in the Albertine-region on the western arm, with flora, birds and butterflies making for a unique destination.
The park is home to 40% of Uganda's bird population in its forest. And 66% of the bird population of Semuliki national park makes Uganda's total number of forest birds. The park is as well home to the more than 100 Guinea-Congo forest Biome-species located in its forest and swamps.
A Birding experience inside the park, gives a chance for the bird lovers to explore some of the parks' endemic species. Bird watching is called out in the different birding trails and swamps of the park. The swamps along river Semuliki have been recorded to have sights of the Afrotropical highlands biome species, the famous papyrus gonolek, Caruthers Cistocola and many more.
Bird species that have been recorded in Semuliki national park include yellow –throated cuckoo, Black Dwarf hornbill and white crested hornbill. In addition,  Black crested hornbill, white throated Blue swallow, Maxwell's Black weaver, Blue billed malimbe, chestnut –breasted Negrofinch and Piping hornbill. Some very unique ones include; red–rumped Tinkerbird, red-Billed malimbe, orange–cheeked waxbill, Lemon–bellied crombec, African piculet, Black Casqued wattled hornbill, serpent eagle, swamp palm Bulbul, lyre-tailed honey guide, Great blue Turaco,  Yellow –throated Nicator , Ross's Turaco and many others.
Beyond Birds…
Besides the bird species being a great attraction in Semuliki national park, the park is as well home to the 53 wild mammals.  11 of these mammals are endemic to the park and these include the "fanged deer", Squirrel species, and pygmy antelope. Supplementary wildlife species in the Semuliki national park include, antelopes, buffaloes, forest elephants and many others.
The Sempaya hot springs, are another major highlight for visiting Semiliki national park. A hike to these springs rewards views of both the female and male hot springs. Marshes around these springs give a glimpse of some bird species that can be found around the area.
Best time for birding watching in Semuliki national park.
The national park is open all year round and the birding season take place all year too.  Migratory birds sightings can be done during November, December to February. During the fruiting season, this is as well one of the best times for bird watching in Semuliki national park.  The fruiting season happens in June and September. February, April and September are as well favorable months for bird viewing in the park.
Where to stay in Semuliki national park
The park offers various accommodation facilities for bird lovers that visit the park with interest in bird watching. Accommodation includes, hotels, guest houses and lodges. These include Semliki safari lodge for the luxury travelers, Ntoroko game lodge for the midrange tourists. The budget travelers opt for Kirma guest house, Kalya courts hotel and hotel vanilla for the budget travelers.
Let Us take you for a birding trip to Semliki national park.  We guarantee it is will be an exceptional experience.  Not to forget, a birding excursion can be combined with a gorilla excursion.