February 10, 2021
Posted by:

administrator

Category:

Blog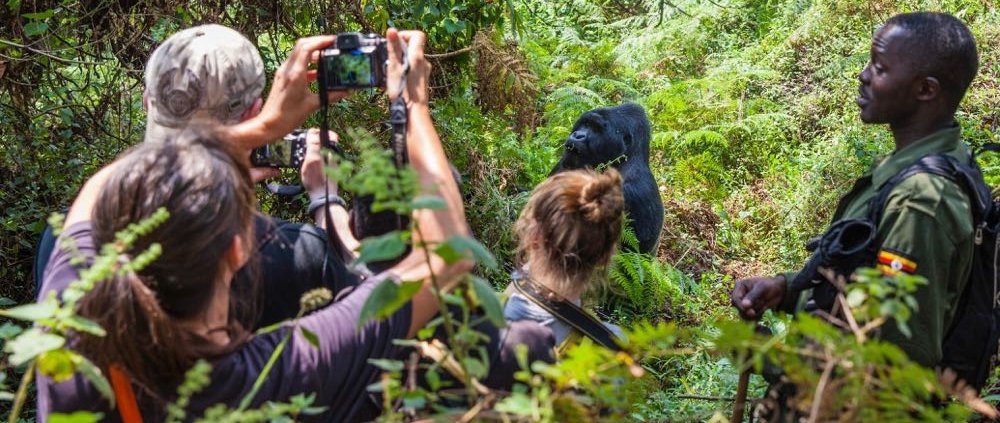 Is Uganda safe for gorilla trekking post COVID -19?, this is one of the most common questions asked by tourist that are interested in gorilla trekking in the pearl of Africa. Well, the answer to this question is definitely a yes! Despite the world wide hit of the globe pandemic of COVID-19, finally hope is really seen in Uganda for the recovery of tourism in its various tourism destinations.
Gorilla trekking is an activity were a tourist tracks gorillas in their natural habitat. Gorillas are endangered ape species that have 98%of human like DNA. In Uganda we have the eastern mountain gorilla species that are found in two primate parks of Bwindi impenetrable national park and Mgahinga national, both located in the south western region of Uganda.
The trekking experience of these gentle species is truly breath taking on every gorilla safari in Uganda, as one gets to witness the interesting livelihood of these primates, as they play, wrestle, feed, groom and rest in their nests.
After the national wide lock down in Uganda, that put to hold most of the tourism activities, hope was seen again when both the primate and savannah parks were reopened for tourism in September 2021.
The tourism regulatory bodies came up with the standard operations procedures (SOPs), as guidelines to be followed while delivering or participating in any tourism related activity, and accessing the protected areas.  For the primate parks of Uganda where the mountain gorilla are located, a number of guidelines that were lined out are as follows:
At the briefing points, visitors and stuff shall wash or sanitize and have their body temperature taken.
Briefing and debriefing shall be done in small groups of eight (08) tourist after they have been assigned gorilla families for tracking
Tourists, stuff porters who, during the briefing are observed to be sick shall not be allowed to track. These include anyone with signs of flu, and those who report to have diarrhea, stomach upsets and malaria among others.
All the visitors, staff and trackers must wear masks.
A maximum of eight (08) tourists shall be allowed t track a gorilla group per day.
A maximum of 6 tourists shall be allowed to track a chimpanzee group at a time
The tourists must keep a distance of not less than 10 meters away from gorillas and chimpanzees during this period.
The assigned UWA guides shall ensure there is social distancing of 2 meters among the tourist while tracking , where practical
Before the gorilla an chimpanzee viewing commences, all people in the group shall sanitize their hands again
The tourist shall carry light equipment to minimize the need for porters while they undertake the tracking. This information shall be communicated to potential tourists through the tour operators and other UWA communication platforms such as the UWA website and social media platforms
Due to the reported side effects of wearing masks for long periods and in high altitude, visitors shall take frequent breaks during the tracking to give themselves time to breath fresh air.
During these breaks, social distancing shall strictly observe.
In case a tourist or accompanying members of the team experiences a health related problem, UWA staff shall apply the established evacuation and first aid guidelines to move the affected individual from the field.
How much is gorilla trekking post COVID -19?
After the reopening of the primate parks during the globe pandemic, a number of discount offers where put up to restart and encourage the tourism activities  of gorilla trekking and chimpanzee tracking. For gorilla trekking the price rates were reduced from $700 for the foreign nonresidents to $400,  $600 for the foreign resident to $300 and 250,000UGX  for the East African residents to 100, 000UGX.  These rates are valid till 31st march 2021, and you can check out our discounted gorilla safari packages for 2021.
Other activities to engage in besides gorilla trekking.
Besides gorilla trekking in Bwindi impenetrable national park and Mgahinga national park, a tourist can engage in other fun activities while on their gorilla safari and these include, gorilla habituation, golden monkey tracking, Batwa culture experience, Volcano climbing, gorge walk and many others.
Is it safe to travel to Uganda for gorilla trekking post COVID-19?
 The political environment in Uganda is generally stable around the different regions of Uganda, this state favors all tourists to travel and enjoy the different tourism services and tourism activities.
Where to stay for a gorilla safari post COVID-19?
Despite the fact that many hotel and lodges business where hit by the pandemic, there are still any accommodation facilities one can opt for, while on their gorilla safari in Uganda.  From luxury, midrange to budget all is depending on the tourist's choice. In Bwindi impenetrable national park, depending on the sector the tourist is going to visit, the accommodation available include; Bwindi guest house , Buhoma lodge, silver back lodge, the gorilla resort  ( Buhoma sector)
For other sectors Broadbill forest camp, Bakiga lodge, Ruhija gorilla mist camp (Ruhija sector), Rushaga gorilla camp , chameleon hill lodge,  gorilla safari lodge , four gorilla lodge (Rushaga ) and Nsongi gorilla camp, Nkuringo gorilla lodge, Nkuringo Bwindi gorilla lodge ( Nkuringo sector).
For those that would want to trekk the mountain gorillas in Mgahinga national park, the accommodation options include mount Gahinga lodge, mucha lodge, Kisoro tourist lodge; travellers rest hotel, 3 ways resort, and Amajambere iwacu community camp among others.
If you're planning a gorilla safari to the pearl Of Africa or a primate safari, love Uganda safaris is here to make your experience unforgettable, we do tailor-made tours around the pearl all depending on your interest and budget Choose us! Check out our discounted packages, and 2021 gorilla packages
3 DAYS MGAHINGA GORILLA SAFARI
4 DAYS MGAHINGA GORLLA SAFARI
4 DAYS BWIND GORILLA SAFARI
6 DAYS DOUBLE GORILLA SAFRI
7 DAYS PRIMATE SAFARI IN UGANDA
8 DAYS UGANDA WILDLIFE AND GORILLA SAFARI
10 DAYS GORILLA IN UGANDA