February 13, 2021
Posted by:

administrator

Category:

Blog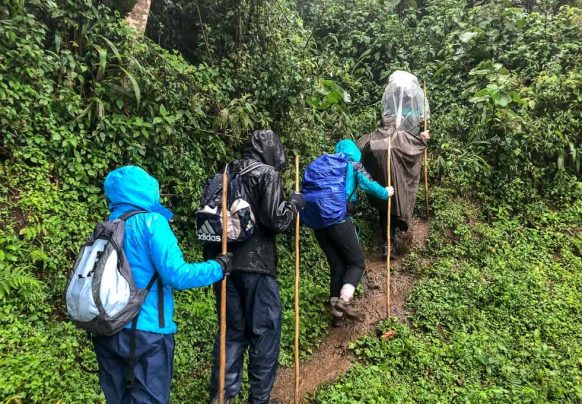 As some may know, before encountering a gorilla safari in Uganda or Rwanda one is required to book a gorilla trekking permit before the activity, it is advised to book in advance especially in the high seasons due to high demand of these permits.
One may ask, what should is carry the gorilla trekking experience?, love Uganda safaris is here to give you some tips of the essentials needed while trekking the endangered mountain gorillas.
Gorillas in Uganda are trekked in Bwindi impenetrable national park, Mgahinga national park and in Rwanda Volcanoes national park. Before encountering this experience the following are the trekking gears one needs for each gorilla safari in Uganda.
Clothing (what to wear)
For clothing, wear comfortable lightweight materials for the trek, wear colors that blend into nature like green , brown or grey but camouflage is not advised for its illegal for people  not in the army. Avoid cloth prints that might intimidate the gorillas like zebra prints, leopard prints or cheetah print
Hiking boots
These are very essential while trekking the different gorilla families in their destinations. The mountain gorillas are located on a higher altitude, with the rugged and slippery trails of the parks, the hiking boots will help to hold your grip on the ground as you move through the rugged terrain trekking the endangered mountain gorillas.
Long sleeved shirts
As the mountain gorillas are located in the dense and thick vegetation of the national parks, the long sleeved shirts are recommended for the trekkers for it helps to protect you from the forest gripping flora or insects, scratches that might cause discomfort while trekking in the jungle.
Long trousers
Long trousers are preferably better than shorts when tracking, hiking and trekking the mountain gorillas, these gorillas are found in the higher grounds of the parks, and the trails of the parks are filled with forest marshes and different vegetation, to avoid insect bites, pricks from the forest horns and hiking discomfort. Long trousers are truly the best option to opt for on your Uganda gorilla safari.
Rain jacket
In case you are planning your gorilla tour in a rain forest like Bwindi impenetrable forest, it is advised to carry a rain jacket for incase the weather changes, and not stop you from your trekking experience.
Gardening gloves
For some tourists, they would carry the gardening gloves to help the grip on tree branches as they trek through the forest vegetation. But this is optional to those that may feel comfortable with them.
Hut and sunglasses
This is another optional wear while trekking the mountain gorillas in their wild home. The hut and sun glasses help to keep from direct sunlight and allow more visibility where practical.
Gear (what to pack)
It is necessary to pack the following items as you prepare for your gorilla trekking experience.
A light back pack is essential, for it will keep all other gear in place while trekking the mountain gorillas
Face mask
This is among the top requirements needed before gorilla trekking, due to the great pandemic of COVID-19, carrying and wearing of a face mask is a must , for this helps to prevent  the spread of any kind virus or disease to the gorillas.  Trekkers with malaria, stomach upsets and with signs of flu will not be allowed to track the gorillas.
Sunscreen and insect repellent
These shouldn't not be forgotten while packing for your gorilla safari in Uganda; the forests are filled with many insects, bugs the repellents will help with the insect bites. And for the sunscreen, this helps with the hot sun rays for the better protection of your skin.
Water bottle and energy giving snacks
As the trekking experience may take 2 to 8 hours in a day, staying hydrated and energy snacks help you keep on track through the dense trails of the forest. Gorilla trekking is not a marathon, remember you will be led by a guide, have small stop overs a little rest.
Gadgets
What would a gorilla experience be without memories, the use of phones cameras for videos and pictures to capture all the moments is worth. For each trek a maximum of one hour is given to witness the interaction, human like gestures and life of these gentle apes, electronic gadgets help to keep all these memories, for they are all you can take back home and the experience. And not to forget carriage of extra charging and batteries will be helpful in case of battery storage.
Mini first aid with antiseptics, plasters is also needed for any minor injury you might get on the way
Other materials needed
Before travelling to Uganda for gorilla trekking, a tourist is required to have a negative COVID test, yellow fever card and other travel documents such as passport, visa, and national identification among others.
If you're thinking of taking on a gorilla safari, your destination should be the pearl of Africa, come experience the different mountain gorillas families in Buhoma, Ruhija , Nkuringo, Rushaga in Bwindi and Nyakagezi in Mgahinga national park for an experience like no elsewhere in the world. Check out our gorilla packages
3 days Gorilla tracking safaris in Uganda
4 days gorilla trekking safari in Uganda
4 days gorilla trekking Mgahinga  national park
5 days Uganda gorilla tour
10 days Uganda gorilla and chimpanzee tour
12 days gorilla trekking safari
12 days gorilla tour in Uganda – gorilla trekking