January 20, 2021
Posted by:

create

Category:

Blog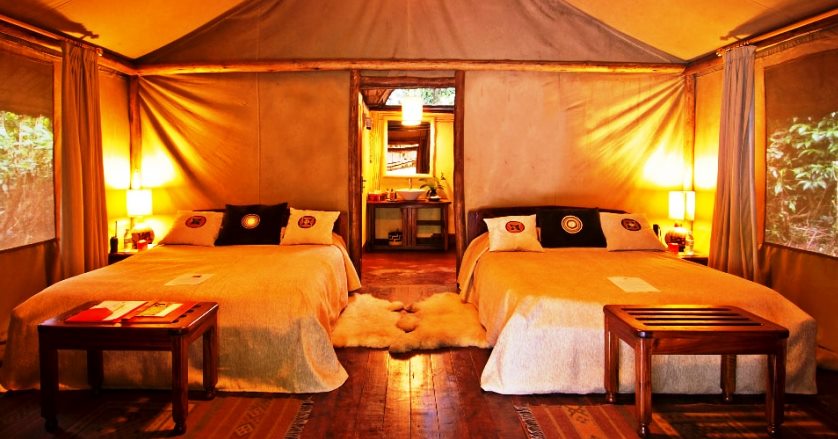 For all the travelers that think of gorilla trekking in the pearl of Africa, one think they shouldn't worry is the place to stay. With the various accommodation in Rushaga Sector of Bwindi from motels, hotels, guest houses, inns, lodges, cottages, camp sites and many more, a traveler is offered variety of his own comfort depending on the preference from budget, midrange to luxury. Accommodations in Bwindi never disappoint, because the list is endless.
Rushaga sector is among the four gorilla sectors of Bwindi impenetrable national park, a place known for harboring the endangered mountain gorillas in the world. The Rushaga sector is located at the southern region of the park with about 7 gorilla families ready to be trekked. These include Bikingi gorilla family, Mucunguzi gorilla family, Busingye gorilla family, Kahugye gorilla family, Mishaya gorilla family, Bweza gorilla family and Nshongi gorilla family.
In Rushaga in Bwindi impenetrable national park the following accommodation choices can be opted for:
;
This is one of the midrange options found in the Rushaga sector, it has a number of facilities that enhance the guest experience.
Facilities
Accommodation

Rushaga gorilla haven
The Rushaga gorilla haven has a variety of comfortable accommodation for its guest with camping grounds, family cottages, luxury tents &suites, standard rooms and cabins are all available for its guest
The facility is well designed with a massage parlor, yoga, therapy and all relaxation activities to ease the stay and calmness of the guest and visitors of the lodge.
The restaurant and the dinning area is well served with both traditional and modern cuisines, with the fact the lodge receives visitors from across the world. The lodge also has room serve for the comfort and convenient of the guest
Other facilities include
Bar
Conference room
Swimming pool
How to access the Rushaga gorilla haven
This lodge is located in the southern sector of Bwindi located in western Uganda. The lodge is in Kisoro district, 6km west of Nyanamo trading sector. This lodge can be accessed by a road transfer or by air
For the road users, it is a 7- 8 hour drive from Kampala, from Rwanda is it about a 5 hour drive to reach to lodge.
The lodge is also accessible by air through the Kisoro airstrip that is located in western Uganda.
Activities that one can participate in while at Rushaga gorilla haven
Forest walks
Commercial filming
Gorilla habituation
Gorilla trekking
Cultural encounters
Birding
Rock python
Chameleon hill lodge
This is another midrange option located in Rushaga sector of Bwindi impenetrable national park. This colorful and vibrant lodge is surrounded by the mesmerizing view of the Virunga volcanoes and Lake Mutanda.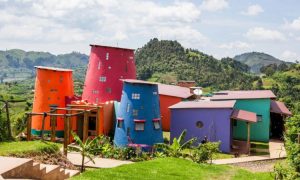 Facilities
This lodge is well constructed and vanished with 10 luxury chalets, all sharing the soothing view of Lake Mutanda and all uniquely structured
Massage parlor
Boat ride
Dinning
Bar
Lounge
En suite bathrooms
Activities
Farming experience
Gorilla habituation
Gorilla tracking
Local market tour
Traditional jewelry making
Birding
Batwa trail
Volcano climbing
Mountain biking
Gorilla mask carving
Gorilla safari lodge
This is among the top luxury lodges in Rushaga sector of Bwindi; this lodge is located at the edge of the national park.
Facilities
Dining room
Quaint nook bar
Spar treatment room
Relaxing lounge
21 individual units
Massage and spa treatment
Curio shopping
Equipped rooms for disabled people
Wifi
Conditioner, shampoo and bathrooms
Laundry service
Room facilities
Beside lamps
Plug points in rooms
Mosquito nets
Ward robes
Dressing gowns
Hot water bottles
Fire place
Wooden balconies
Activities
Guided forest walks
Mountain biking
Batwa pygmies
Guided community walk
Gorilla trekking
Birding
How to access the gorilla safari lodge.
This lodge can be accessed by air or by road; the gorilla safari lodge is located 5 mins away from the starting point of the trekking activity. A road transfer to the lodge from Kampala is about 8 hours' drive and 1 hour from the Kisoro airstrip of western Uganda.
This lodge has children polices, where all children are allowed at the lodge, but not all are allowed to trek gorillas of they are below 15 years. There is also babysitting services for those with babies.
Mahogany spring
This is among the luxurious lodges in accommodation in Bwindi impenetrable national park. It is located near the waters on munyanga and facing Bwindi.
Facilities
Main building
Superior suites
Presidential suites
Honey moon suites
Activities
Community tour
Batwa community
Nature walks
Tree planting
Bird watching
Garden tour